iHeartCats is reader-supported. When you buy via links on our site, we may earn an affiliate commission at no extra cost to you.
Cats are curious creatures, and a cat backpack is a great way to fuel their curiosity without putting them in danger. With one of these adorable carriers, you can bring your cat on outdoor adventures. They'll be able to see the world from the safety of their own little bubble, and it can help them feel like an even bigger part of the family.
If you think your cat might be interested in a backpack, there are lots of products to choose from. So, we've selected ten of the best cat backpacks of varying features to help you decide.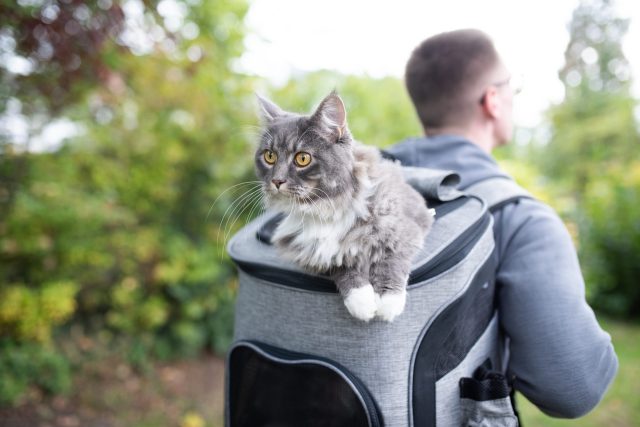 Best Cat Backpack Options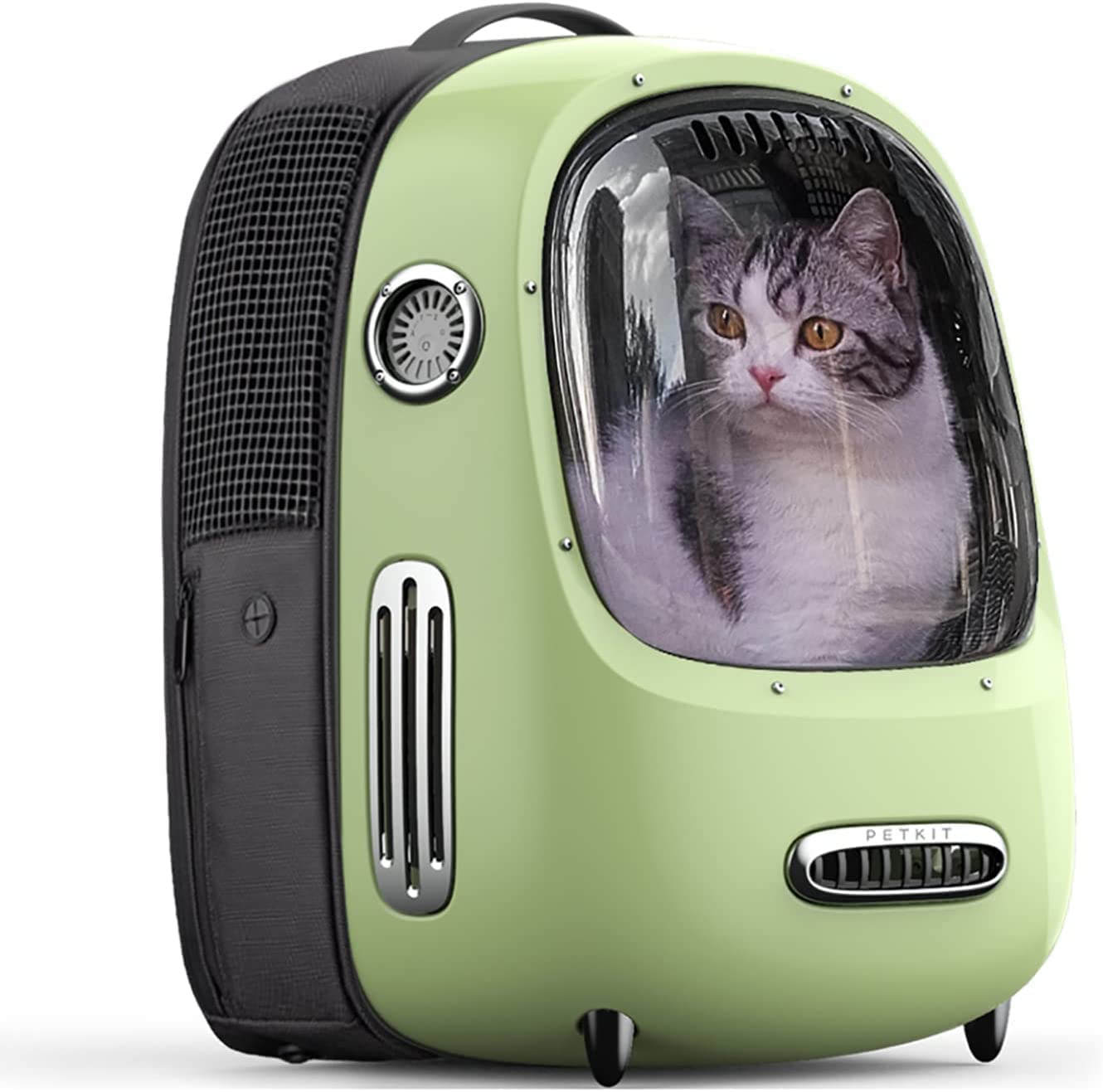 Tinted viewing window
Mesh panels, ventilation holes, and built-in fan
Scratch-proof
Light for night walks
Only weighs three pounds
Approved on most airlines
This pet backpack has a large window for your feline friend to peek out and admire the scenery. The window is tinted to offer UV protection and block out bright lights. There are mesh panels and ventilation holes to ensure your kitty can breathe during your excursions. It also has a built-in fan to provide proper airflow. During night walks, it can light up gradually in a way that won't startle your kitty. The durable materials of this backpack are made to withstand scratching and biting. It only weighs three pounds and it's an approved carrier for most airlines. Plus, it comes in six color options.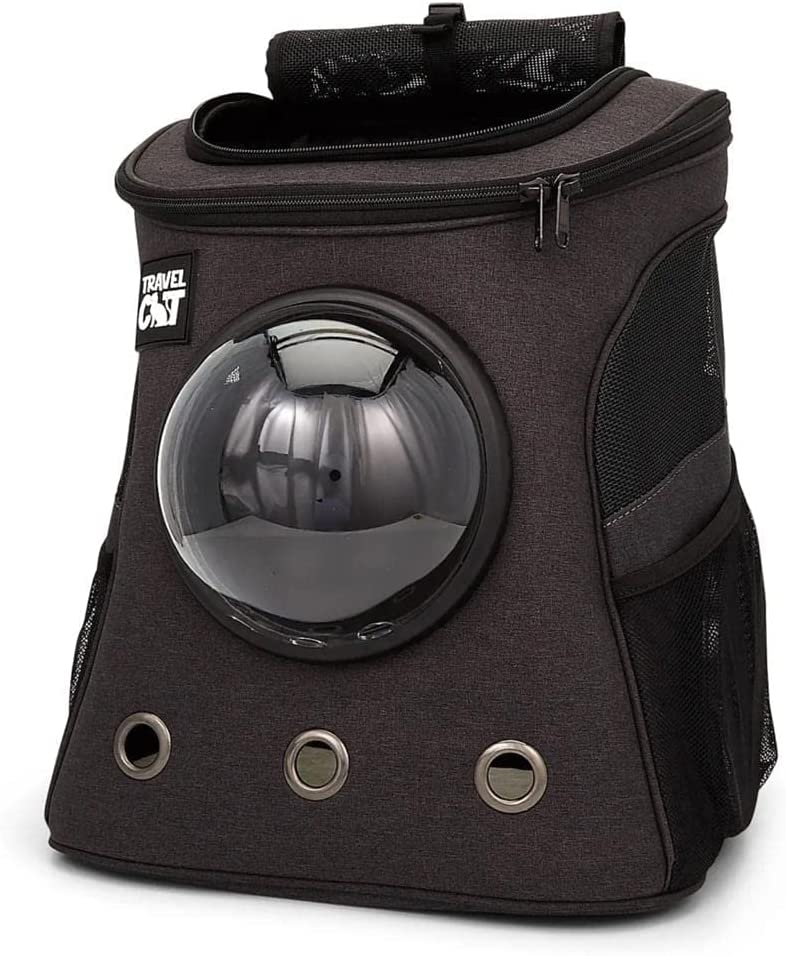 Viewing bubble or mesh window on the front
Mesh sides and air holes
Includes safety clip attachment
Mesh pockets on the sides
Approved on most airlines
Designed for pets up to 25 pounds
This is another cat carrier backpack with a bubble on the front so your cat can see their surroundings. The bubble can be swapped out for a mesh window instead. There's also mesh on the sides and top along with several air holes for breathability. Plus, it has side pockets to hold any accessories you might need, such as your keys or phone. This backpack has five different color options, and it's designed to hold pets that are 25 pounds or less. It's also an approved size for most airlines. There's a clip inside the backpack that you can attach to your cat's harness to keep them secure. That way, you can open the top of the carrier without worrying about your feline jumping out.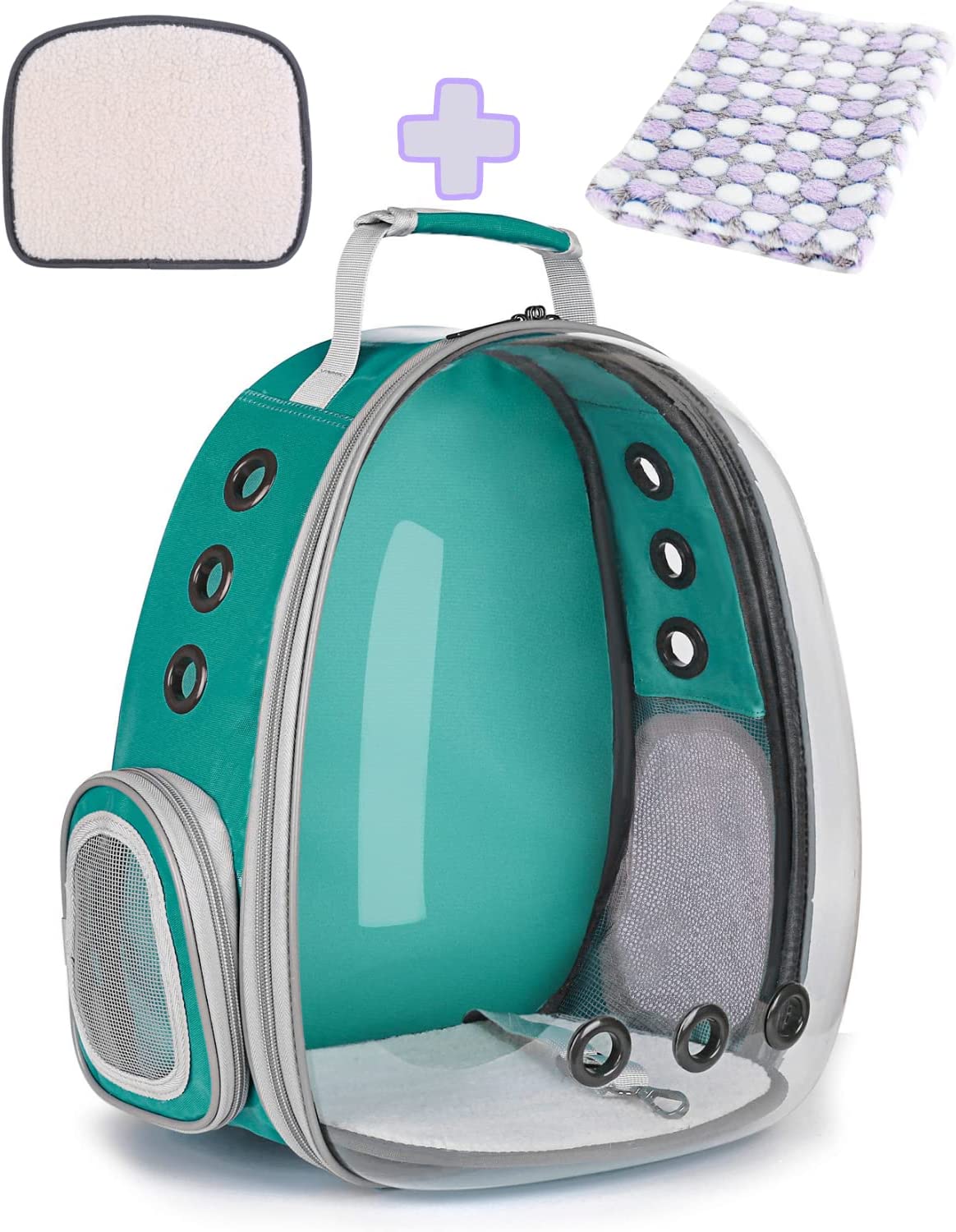 Entirely transparent front
Comes with a soft mat and fleece blanket
Ventilation holes and mesh sides
Waterproof and lightweight
Security clip inside
Works as an airplane bag on most airlines
Made for cats up to 12 pounds
With this cat backpack, the entire front is transparent so your feline will easily be able to see the world around them without you needing to open the bag. It comes with a soft mat and a fleece blanket to ensure that your kitty has a cozy surface to rest on while in the backpack. The bag is waterproof and lightweight, making it ideal for any adventure. It has mesh pockets and nine ventilation holes to ensure your cat can breathe while inside. One mesh side opens slightly so you can pet your cat without letting them out. The bag also has an internal safety clip to secure to your cat's harness. It's made for cats 12 pounds and under, and it works as an airplane bag for most airlines.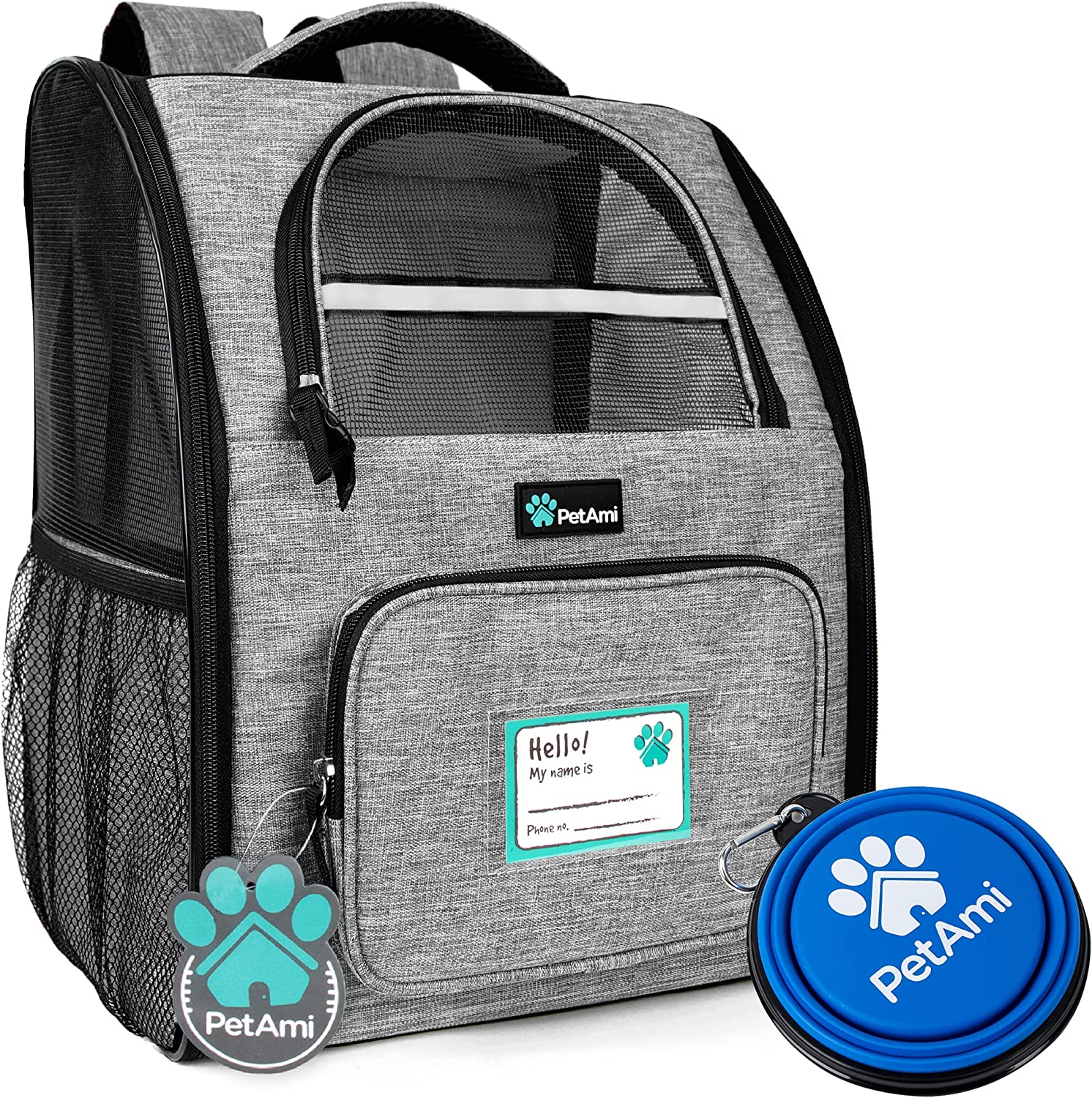 Several mesh windows
Sherpa-lined bedding
Multiple pockets for accessories
Comes with a collapsible bowl
Chest and waist straps for added support
Safety strap inside
The PetAmi Deluxe Carrier comes in 12 different colors, so there's something for every pet parent to enjoy. It has mesh spots on the front and sides so your cat can look out in several directions. It has sherpa-lined bedding on the bottom for comfort and a clip to attach to a harness for safety. The exterior has multiple pockets so you can store any necessary items, such as treats or keys. It comes with a collapsible bowl so your furry friend can always stay hydrated. It's made with a reinforced steel frame and 600D high-grade polyester to ensure it lasts for years to come. It has a chest and waist strap so it doesn't fall off, and the non-skid feet are beneficial for when you make stops during your trip.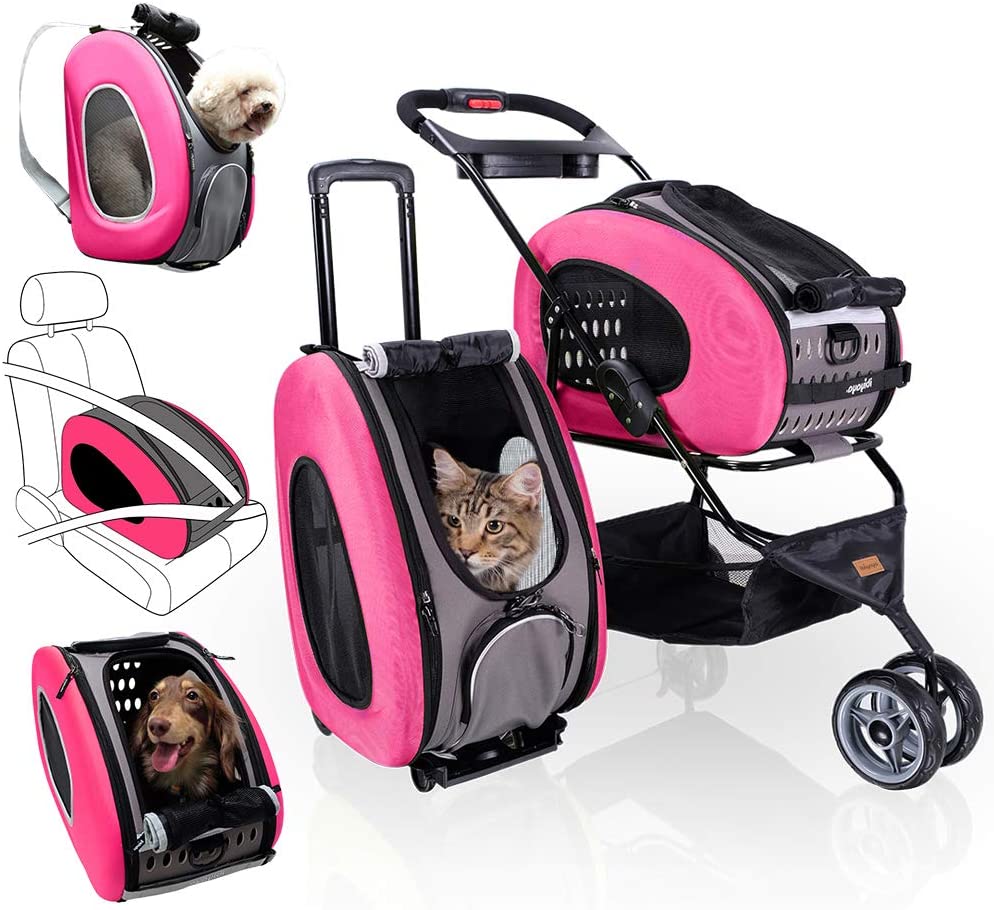 Converts into a shoulder carrier, car seat, rolling bag, and stroller
Large mesh windows
Safety tether inside
Collapses for easy storage
Machine-washable interior padding
Works for pets up to 16 pounds
When it comes to versatility, the Ibiyaya carrier is an excellent option. This backpack can also convert into a shoulder carrier, car seat, rolling bag, or stroller. Plus, it comes in five vibrant colors. The backpack has mesh windows so your cat can see their surroundings and breathe easily. When it's not in use, it collapses for easy storage. It has a tether inside to keep your pet secure and the interior padding is machine-washable. It's a great carrier for any pet 16 pounds or less.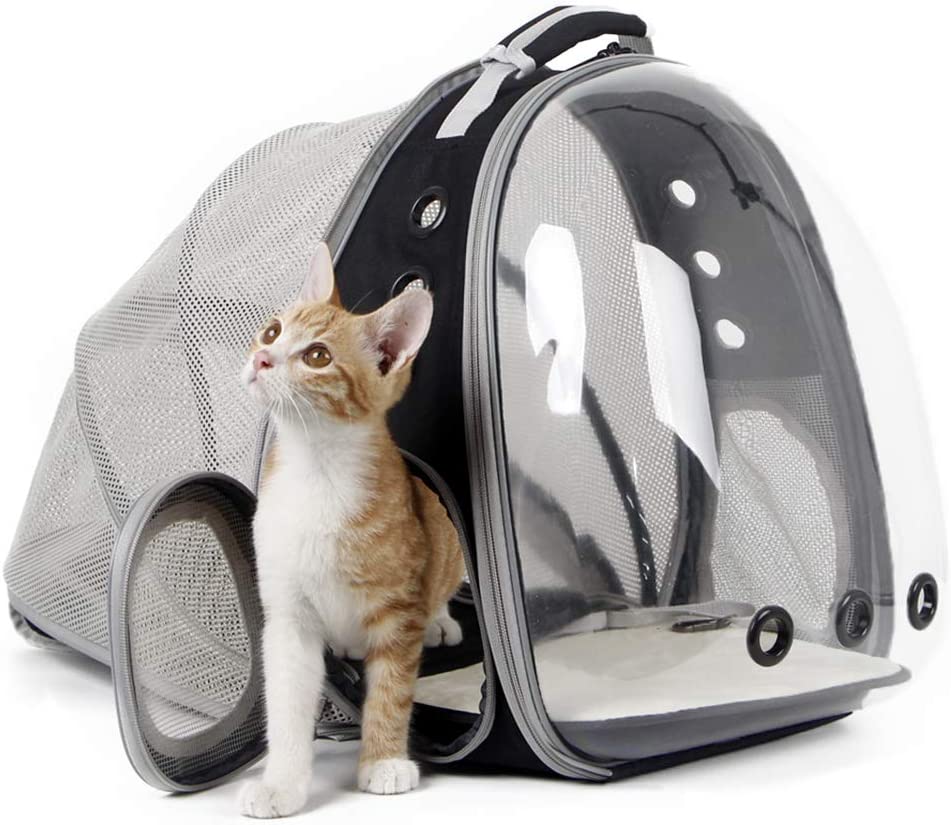 Large transparent window covers the front
Expandable mesh back
Ventilation holes and mesh patches
Made with eco-friendly, non-toxic materials
Weighs three pounds, for cats up to 12 pounds
Approved by most airlines
The Halinfer Backpack Carrier is another great option with a fully transparent front, allowing your cat to see all around them. This carrier is unique because when you take a break, you can expand the back so your cat has more space to explore without exiting the bag. The expandable back is mesh and there are several ventilation holes for breathability. This bag is made with eco-friendly, non-toxic materials to ensure that it's safe for your cat. You can wear the backpack over your shoulders and buckle it around your chest for added security. The bag only weighs three pounds, and it's designed for pets up to 12 pounds. It's approved by most airlines and there are several unique color patterns to choose from.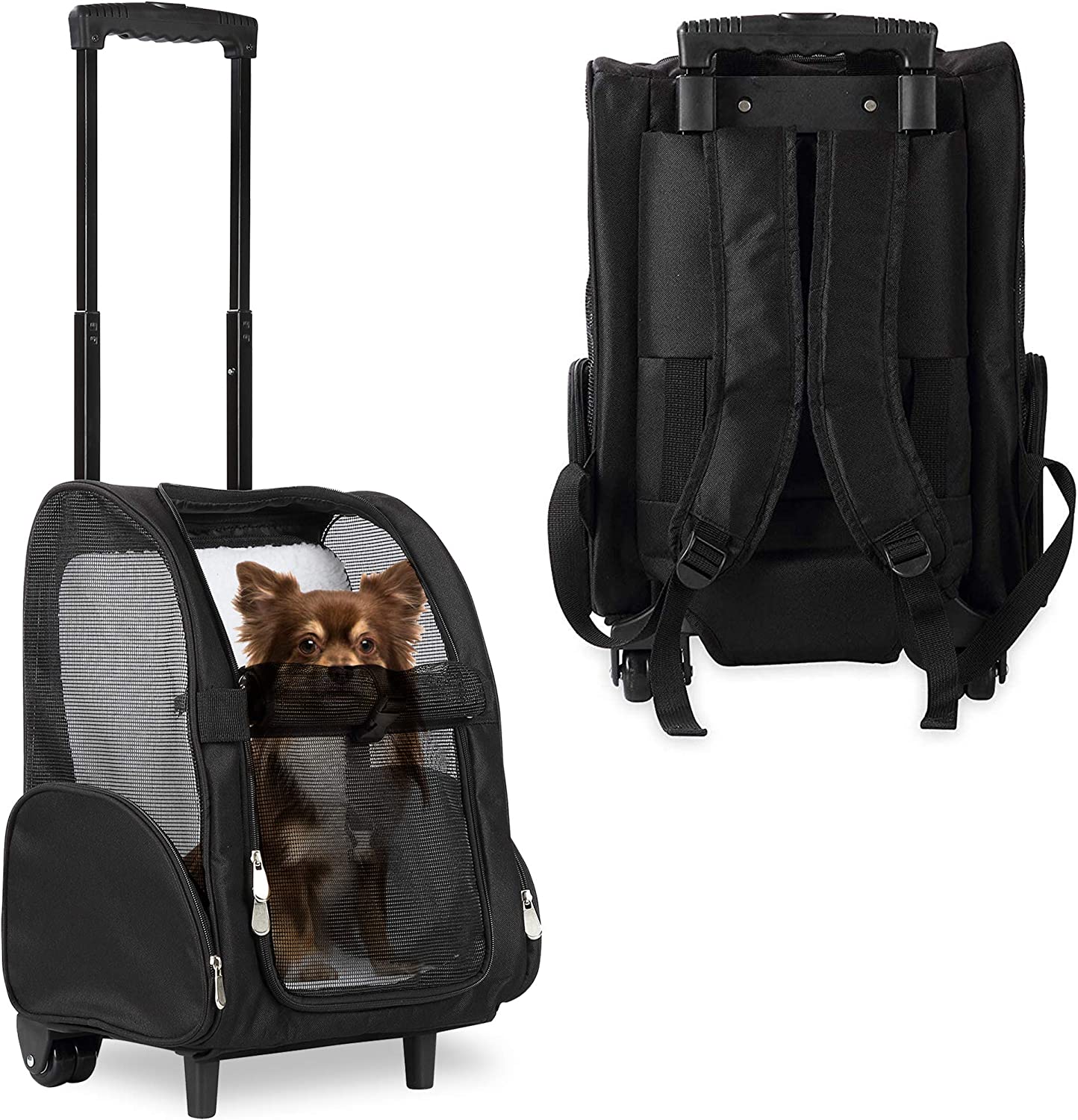 Transforms into a rolling bag
Comes in two sizes
Smaller size is approved by most airlines
Mesh on three sides
Soft, padded interior
Large, zippered pockets for carrying supplies
Also available on Petco
The KOPEKS Deluxe Backpack also works as a rolling bag, making it easy to travel with your cat when your shoulders get tired. It comes in a medium size (up to 10 pounds) or a large size (up to 18 pounds). There are also three color options. It's made with 600D Oxford fabric and industrial-grade aluminum for maximum durability. It has a soft, padded interior to ensure your feline is comfortable, and it has mesh on three sides. There are zippered pockets on each side so you can pack all the essentials for your feline. The smaller size can work as an airline carrier, but you should also double-check with your airline before using it.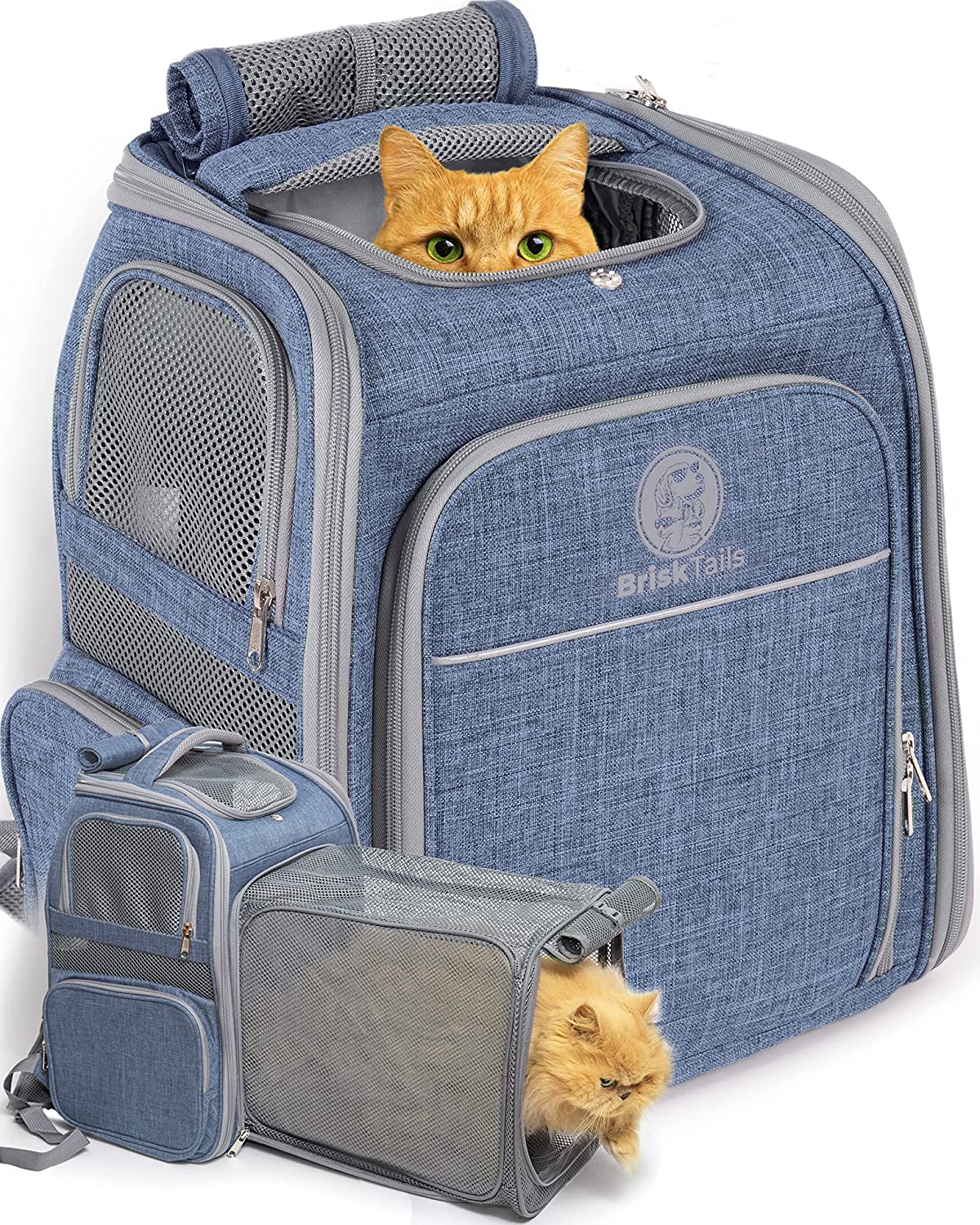 Several mesh windows
One side expands for extra space
Large pockets for necessities
Safety clip inside
Easy to secure in the car
For cats up to 15 pounds
The BriskTails Cat Backpack has several mesh patches to ensure visibility and breathability. It opens on both the top and the bottom, so your cat can choose which one they want to enter and exit through. When you stop to rest, you can expand part of the backpack to give your cat more room to roam. It has several large pockets to store any necessities, such as water and treats. The inside of the backpack has a safety clip to prevent your kitty from escaping. It also has a strap to make it easy to attach to the car through a seat belt. It's suitable for any cat up to 15 pounds, and it has two color options.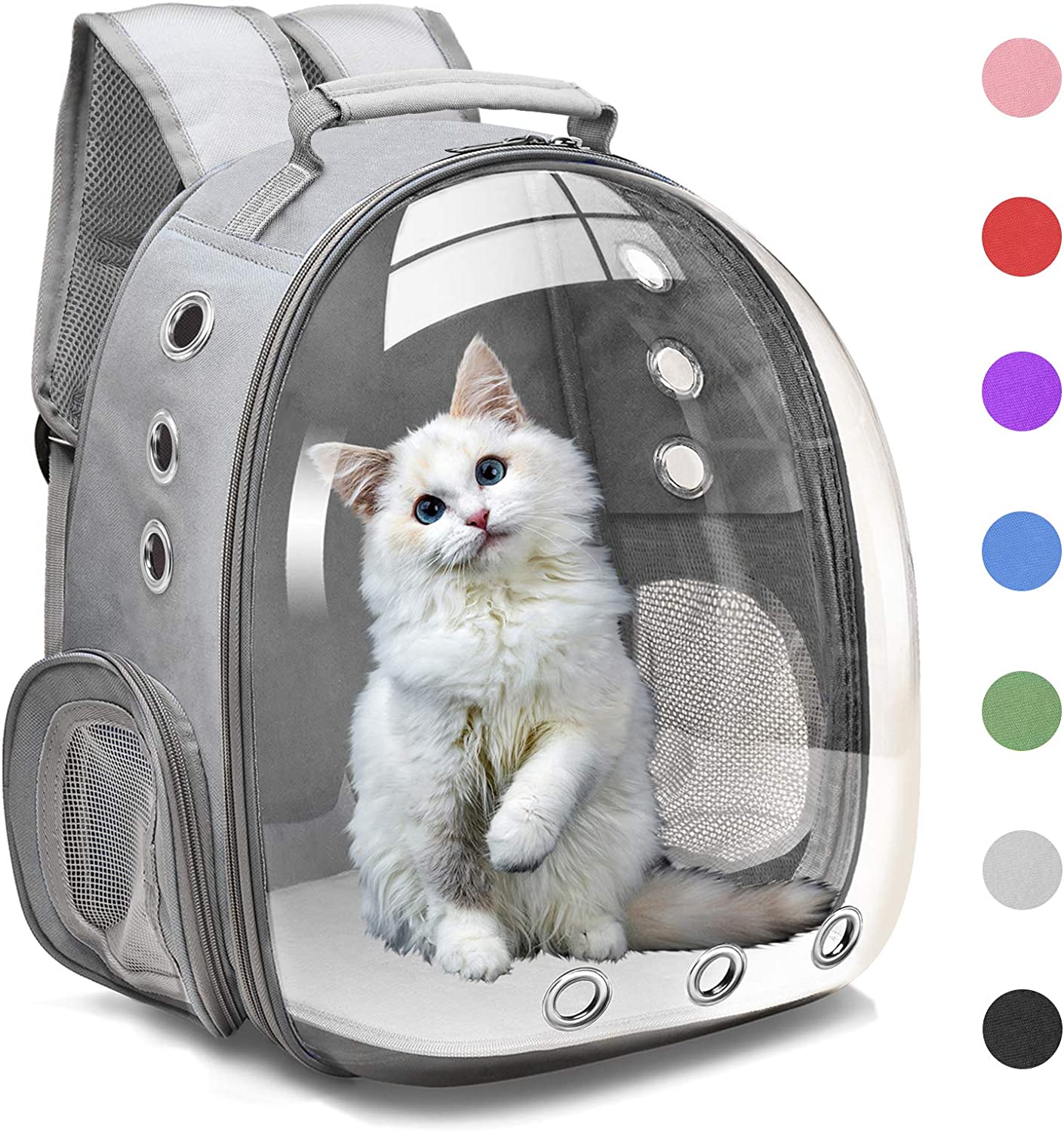 Entire front is transparent
Ventilation holes and mesh patches
Removable fleece mat
Safety clip inside
Durable ABS material and Oxford cloth
Cat bubble backpacks are popular, so the Henkelion Cat Backpack is another great example of that. The entire front of the carrier is transparent so your cat can enjoy the world around them without running loose. It's made of durable ABS material and Oxford cloth. For breathability, it has several ventilation holes and mesh patches. It includes a removable fleece mat and a safety clip to keep your cat secure. Plus, there are six adorable colors available so the backpack can fit your style.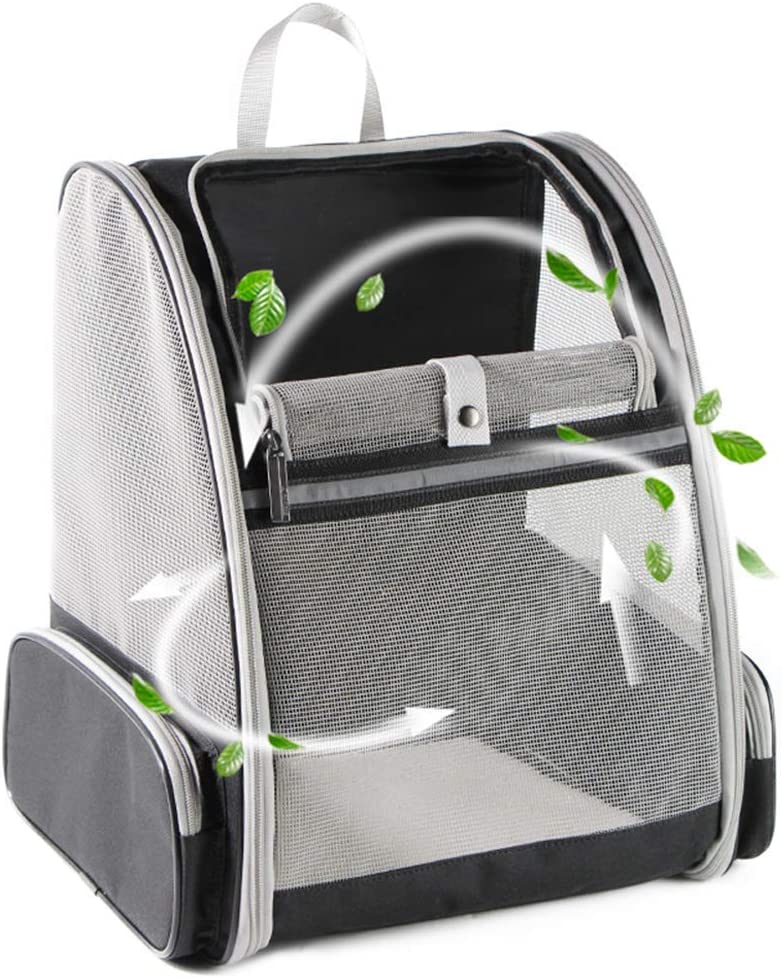 Covered with mesh on three sides
Safety leash inside
Large, zippered pockets
Removable, washable padding
Folds up for easy storage
Approved on most airlines
For cats up to 18 pounds
The front and sides of this backpack are covered almost entirely by mesh for proper ventilation. The top window can roll up so your cat can stick their head out, and a safety leash can prevent them from trying to jump out. There's a soft pad inside the carrier, which is removable and washable. There are large zippered pockets on the side to hold all of your belongings. It works well for cats up to 18 pounds, and it's suitable for most airlines. When it's not in use, it folds up for easy storage. When carrying it on your shoulders, you can use a chest strap for added security. There are several colors to choose from.
Buyer's Guide for the Best Cat Backpack
Before settling on the best cat backpack carrier, consider the following features.
Size
The carrier should be large enough for your cat to comfortably stand and turn around inside. Your feline should also be within the bag's weight capacity to ensure that they're easy enough to carry. Some backpacks are expandable to give your cat extra space when you set the carrier down.
Ventilation
Proper ventilation can ensure that your cat is safe and comfortable in their carrier. This can be achieved by including breathable mesh, ventilation holes, and in some cases, a built-in fan.
Comfort
The interior fabric can also ensure that your cat is cozy in their carrier. It should have soft padding inside that's easy to wash if your cat has an accident. The backpack should also be comfortable for you by including adjustable, cushioned straps.
Durability
Since backpacks are typically brought on outdoor adventures, they need to hold up against the elements. They should be made with durable materials that can withstand cat scratches. Having a waterproof exterior is also a plus in case it starts raining.
Safety
All the zippers on the backpack should be secure so your cat can't shove their way out, but many backpacks have a safety clip as an added precaution. The clip attaches to a cat harness so your cat can stick their head out of the carrier without being able to jump out.
Weight
The backpack should be as light as possible since you may have to carry it for long distances. Keep in mind that your cat's weight will be added on when they're inside.
Storage
Like regular backpacks, cat backpacks should have some storage pockets to make travel easier. That way, you can carry your phone, keys, water, cat treats, and other essential supplies with you.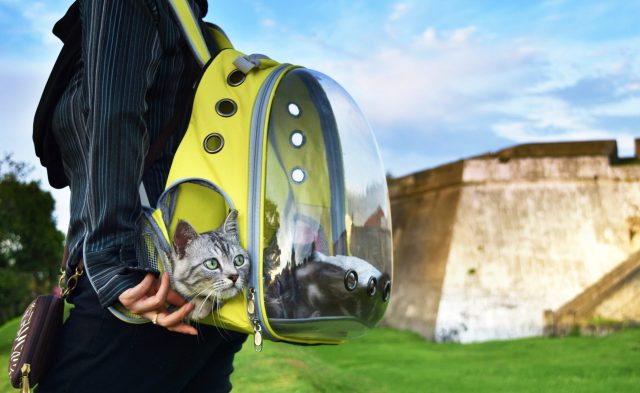 Frequently Asked Questions
Are Cat Backpacks Safe for Cats?
Yes, cat backpacks are safe for cats when used correctly. The bag should be well-ventilated with secure zippers. A safety leash inside the bag is a great way to ensure your cat stays secure in the carrier. If it's hot outside, limit your cat's time in the backpack and offer them water regularly.
Do Cats Prefer Hard or Soft Carriers?
Your cat's carrier preference depends on their personality. Many cats find soft carriers more comfortable because all the sides are flexible. However, other cats may prefer hard carriers because they feel more secure.
Are Cat Backpacks Allowed on Planes?
Yes, many cat backpacks are airline-approved carriers. However, you should always check your airline's pet carrier restrictions before bringing your cat in the backpack.
How Can I Help My Cat Feel Comfortable in a Backpack?
If your cat isn't comfortable in a backpack, you should gradually get them used to it. Start by rewarding them whenever they go inside the carrier. Then, try carrying them in the backpack for a few minutes at home. Repeat those steps until your cat seems calm enough to try an outdoor adventure. Keep in mind that some cats will never enjoy being carried.
Do Cat Backpacks Get Hot?
Yes, cat backpacks can get hot, but there are features in place to keep your cat cool. Most cat backpacks have mesh, ventilation holes, or fans to cool your feline down. However, if it's hot outside, you should take regular breaks in shaded areas to ensure your feline doesn't overheat. Always offer your cat water regularly, regardless of the weather.
Can All Cats Fit in a Backpack Carrier?
Larger cat breeds, such as Maine Coons, may not fit in the average cat backpack. Check the dimensions of a backpack before picking one.
How Long Can I Carry My Cat in a Backpack?
Cats can safely spend several hours in a backpack carrier, but you should regularly stop for breaks. A break every half hour is ideal so you can keep your kitty in the shade and offer them water. If your cat seems nervous in the carrier, it's best to cut their backpack time short and head home.
How Can I Keep My Cat Safe While We're Out of the House?
When traveling outside of the house with your cat, make sure you keep them secure in their carrier at all times. As curious as cats are, it's typically not safe for them to wander around on their own. Make sure your feline is also spayed, microchipped, and wearing an identification tag in case they escape.
How Do I Clean a Cat Backpack?
It depends on the product, but most cat backpacks can be cleaned using a damp cloth and pet-safe soap. The easiest products to clean are the ones that have removable and machine-washable padding.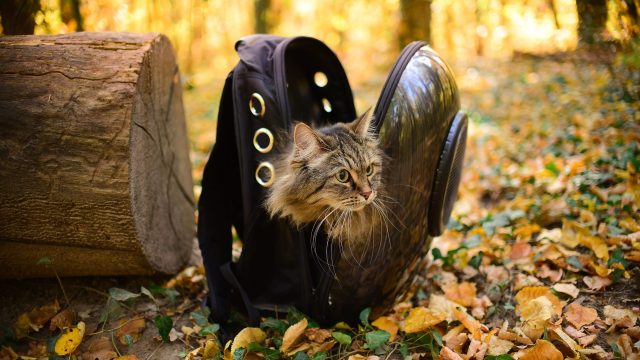 Final Thoughts
A cat backpack is a great way for you to explore the world with your feline companion. Before purchasing a product, you'll need to ensure it's large enough and comfortable enough for your cat. Depending on what you'll use the backpack for, you may want to consider additional features, such as pockets and built-in fans. No matter which carrier you choose, your adventurous feline is sure to have a blast!
[templatera id="3493224"]
iHeartCats is reader-supported. When you buy via links on our site, we may earn an affiliate commission at no extra cost to you.